My name is Mark Driscoll and here is my musical resume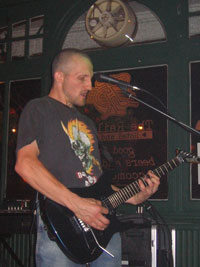 I am a guitar, drum and bass teacher based in Bromley, Kent. I have been fully DBS checked and I teach at my home studio, Ascape studio or at a students own homes if required. Please read on to see my musical history.
I began playing guitar in 1988. Like many people I had been interested in playing the guitar for some time but had never done anything about it. I finally took the plunge after seeing a friend playing the acoustic guitar. After borrowing his acoustic for about a month I finally bought my first electric guitar and never looked back.
I formed my first band with friends about 2 years later. I ran this band for the next 10 years through various name and line up changes playing, rock, blues, rock and roll, 60's soul and reggae covers. The band gigged regularly in the London and Kent area, often playing 2 to 3 times a week. This helped me to develop as a versatile guitarist, as I provided both the lead and rhythm back bone of the band.
During this period I began to teach guitar to a few students, but mainly concentrated on my own playing which had branched out into original projects, as a guitarist in a pop band and as a bass player in a rock band. Both of these bands played in various London venues including The Rock Garden.
From 1996-2000 I was also playing main guitar in a duo covering a wide range of material and gigging throughout London, Essex and Kent. During this time I also started playing the drums, initially just jumping on the kit during breaks at band practices and then gradually taking it more seriously.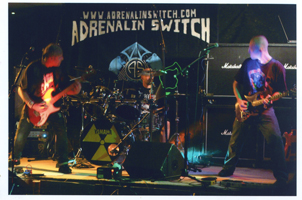 In March 2004 having taken a few years out of gigging and teaching, I formed a new band with my old drummer and bass player. We called ourselves Adrenalin Switch and with a new singer have been performing more and more ever since. We cover material from Hendrix, Cream, ZZ Top, Kravitz, Nirvana, Foo Fighters, Metallica and many more! Check out the link for the bands website on the links page!
Having taught guitar to many people over the years in early 2006 I decided to start teaching more seriously. I now regularly teach electric, acoustic and bass guitar lessons from home and also travel to some students. I also started teaching drums in 2008 and now teach either from my home studio on a full size electronic kit, at the students home if they have a kit or at Ascape studios on an acoustic kit if prefered.
If you would like more info on my drum lessons please check out my drum lessons website a link for which can be found on the links page. For more info on guitar and bass lessons please check out the rest of this site.